How to Improve the Quality of Education Among Students?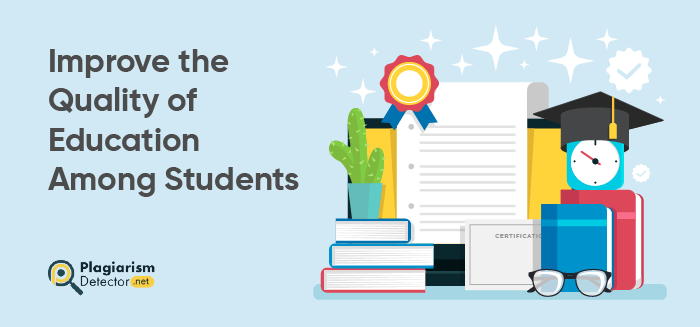 Views: 1258
Reading Time: 15 Min To Read
Uploaded On: May 19, 2023
High-quality education is the basic need of every single individual on this planet. Moreover, education is the primary factor that plays a crucial role in making one's future bright. Therefore, teachers and educational institutes must strive hard to provide quality education to their students.

Quality education in the early years provides a strong foundation for children to learn more and succeed in their lives. However, improving the quality of education isn't an easy chore. Therefore, all stakeholders need to invest their energies to uplift the standards of education.

In this blog post, we will share a few suggestions that will surely improve the quality of education for students. So, stick to this blog post till the last word to learn ways to enhance the quality of education.

Helpful Tips to Improve Quality of Education

The following suggestions will certainly help uplift education standards per the modern advancements in the digital world.

Adjust Educational Schemes to Industry Changes

No one can deny the fact that every educational institute has a goal to provide the best quality education to their students, which helps them in getting a successful professional career. However, it is also essential for schools and colleges to stay connected with the recent updates in the industries and adjust their course accordingly. If you fail to guide your students with modern inventions, their chances of a shining future will be doomed.

The institutes don't adopt the latest changes and avoid updating their education quality; then their teaching will become outdated and irrelevant. That's why you must revise and plan your educational programs according to industry changes. Similarly, educators need to work on improving the skills of their students.

The skills gap is a crucial issue that makes your students incompetent for employers' requirements. That's why your educational scheme should be capable of equipping students with a skill set that helps them compete with others and outshine them.

Plan Motivational Discussions

Certainly, teachers must motivate their students to give their best performance to achieve desired results. But, many times, you need to organize sessions where professionals who are good motivational speakers can share their struggles and encourage students to give their best if they desire to get success. In addition, they can share their success stories or mistakes they have made during student life to get connected with students. This will surely help students set their goals and learn from their mistakes.

Introduce Online Resources to Students

Teachers are supposed to advise their students with the best resources that can help them in their learning. No one can deny the importance of online educational resources in recent times. The internet is the biggest source of information that also offers hundreds of useful tools that can help students in completing their assigned tasks. Guide them about such utilities and how they can help them in their education.

We all know that plagiarism is a serious issue that can ruin students' careers. As a teacher, you need to guide your students about the consequences of plagiarism and how an advanced plagiarism checker can help you in avoiding it.

This approach will surely be helpful for your students to learn how advancement in technology is helpful for them in improving their learning experience.

Build Strong Relationships with Students

There are possibilities that your students are facing some genuine issues or want some changes in the educational scheme or teaching style. It is mandatory to empower students to share their concerns fearlessly with the management or teachers. Teachers who empower their students mostly succeed in making a strong relationship with them. Research has also proved that empowering students will lead them to higher educational aspirations and ultimately earn good grades.
Pay Attention to Student Retention
If you are running an educational institute with a high student retention rate, then you need to analyze your education quality and revise it. Take it as a wake-up call, create an effective strategy using suggestions of your administration and faculty staff to improve the quality of education, and ensure that every student gets good grades and graduates with flying colors. You should also conduct an assessment to familiarize yourself with the necessary educational program changes.

Also, encourage your teaching faculty to give extra time struggling students and help them overcome their deficiencies. Introduce extra tutoring sessions for weak students to improve student retention rate. You can also opt for different strategies according to the suggestions shared by your faculty and administration.
Get Assistance of Technology
Integration of technology in your educational program is something that cannot be avoided for any possible reason. Incorporating technology will help you introduce modern advancements to your students. Furthermore, it will surely make learning more interesting and exciting for students.

For instance, finding instances of unintentional plagiarism is a serious concern that students often face while writing assignments. Teachers can guide their students about the importance of using a plagiarism checker in academic work and how it can aid them in getting quick and reliable results.

Gone are the days when you could use conventional means and patterns in your schools. Now, you need to boost education quality by taking the assistance of modern gadgets. Many educational institutes, especially schools, have started using tablets instead of pen and paper, which improves their students' engagement in learning and communicating with their peers. This also helps teachers monitor students' performance and do the needful.

Moreover, the pandemic has taught us many things we never thought of. For example, video conferencing or online classes were not popular in the educational system, but they proved to be a great way to connect students and teachers during a pandemic. With online learning, students can get information about any topic at any time without facing any hurdles.

Similarly, video lectures are another helpful technique that enables teachers to deliver their lectures online. Students can record these lectures and watch them anytime, which will assist them in understanding the topic effectively. Therefore, using technology will be helpful in improving the quality of education among students.

Get Feedback from Parents
Students' parents invest their resources in paying their school tuition and other expenses. However, the primary demand they have from the educational institute is to provide a positive learning experience to their children. Therefore, as the owner of the educational institution, you must provide them this chance to speak up and share their views or concerns about the quality of education.

The feedback you get from them will be genuine and offer you a chance to discover the system's problems. Parents' suggestions would be related to the quality of education and how you can improve them. Following the ideas or suggestions shared with them will certainly help you in improving education quality.
Teachers' Training is Vital
Focusing on improving technology to improve education isn't enough at all. The teachers using modern facilities should also be trained regularly. This is immensely crucial to make your teachers up to date with all the latest technologies and how to take the assistance of this advancement in technology in improving students' learning experience.

Developing an annual orientation program for teachers is a valuable strategy that will surely work for you. This will also motivate teachers to take an interest in learning about modern technology and how to use it to teach the students.
Bottom Line
The tips shared in this blog post will surely help you in uplifting the quality of education among students. You will witness great improvement in students' grades after adopting these suggested techniques in your education scheme. We hope this blog post has helped you to learn how to find and overcome the faults in your education scheme and provide students with a better learning experience.