Article Rewriting Tricks to Rewrite Content and Improve Its Quality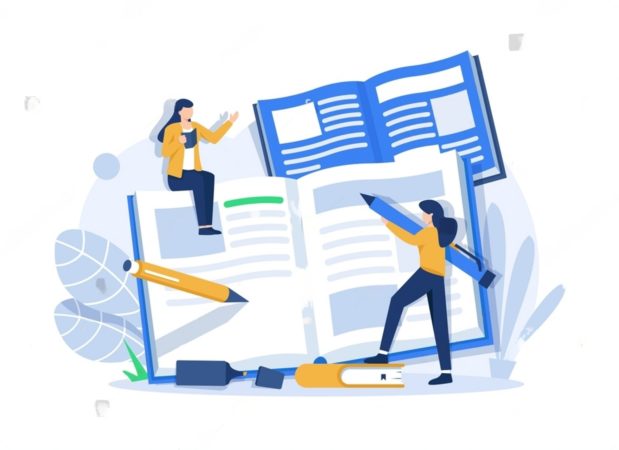 Views: 1258
Reading Time: 15 Min To Read
Uploaded On: April 3, 2023
Writing quality content seems like a simple and easy task to many of you. Many people believe that writing is all about typing a few words and publishing it, and that's all. However, writing is a broad term that involves different skills, processes, and strategies. It's not as simple as a person waking up in the morning and starting typing on the computer. Quality content creation requires extensive effort from the writer. Doing deep research to learn everything about the assigned task is the first but extremely crucial step. Finding relevant and authentic information related to your topic often requires you to explore tons of sites.
Excellent writing skill is another crucial requirement that is demanded from a writer. Writing a complex idea in the simplest manner is an art that every professional writer must learn to engage readers. Improving vocabulary is also essential to write content that can impress its readers. However, many breaches often make it challenging for writers to create quality content. For instance, a shortage of time is a serious problem that most writers usually face. Giving writers a deadline of only a few hours and demanding well-written, research-based, unique content is an unnatural desire. But, there is an easy way to create high-quality content within a few minutes. Yes, it's true! Rephrasing published articles is a practical approach that allows you to generate content in bulk in a short span without losing quality.
What is Article Rewriting?
Article rewriting is a helpful technique that allows you to restructure published or unpublished content without doing any further research, but the meaning of the content remains intact in this practice.
Rephrasing, also known as paraphrasing or article rewriting, is an excellent way that enables many writers to generate unique articles within a limited time. In this technique, you need well-written and appealing content to paraphrase. Once you find such content, read it carefully to understand its idea and then pin down what you learn using your own words. But, it is essential to make sure that the meaning of the content remains the same as the original content.
Article rewriting offers great help to writers who are asked to provide fresh and unique content in a limited time. But, rephrasing content manually may be challenging for newbies and individuals who are non-native to the English language. In addition, learning the original content's core meaning and then explaining it in your own words require good reading and writing skills. However, the problem can be countered using an advanced article rewriter. This utility automates the content creation process and offers you quick and flawless rephrasing results.
How Article Rewriter Improves Content Writing Skills?
Article rewriter offers great support to everyone who wants to create engaging, fresh and appealing content to submit to their supervisors or publish on the web without making any manual efforts.
Here are a few major advantages of using paraphrasing tools.
• Improve The Length of Paragraphs
Many writers, especially beginners, often use additional words and sentences that are not required at all and ultimately increase the length of the paragraphs. You need to learn that lengthy paragraphs can affect the readability of the content. People usually don't like to read content that includes lengthy paragraphs. The use of an online paraphrasing tool improves the length of the paragraphs by eliminating unnecessary words and making your content easily understandable.
• Enhances Your Vocabulary
English is a tricky language that has different words for explaining the same idea. Also, one word can serve multiple meanings in accordance with the context. Therefore, individuals who want to excel in the writing field must expand their vocabulary to write content that explains an idea perfectly. The use of an article rewriter is highly useful to extend your vocabulary. This facility rewrites the entered text by replacing text with suitable synonyms. Analyzing the text generated with rephrasing utility allows you to learn new words and the appropriate way of using them in the sentence. This will surely help you enhance your vocabulary and, more importantly, your writing skills.
• Auto-Corrects Writing Errors
Proofreading is one of the most integral parts of content writing. Reading your crafted content with proper attention enables you to find any misspelled words or grammatical issues. Sharing an article that has many writing errors will offend its readers and raise questions about the credibility of the writers. An advanced article rewriter makes your content free of grammatical mistakes without requiring manual input. Once you enter the text that contains spelling and grammar errors on an advanced paraphrasing tool like those offered on this platform, the backend algorithms of the tool auto-correct the errors. Later, the facility replaces better synonyms with the words to offer a better version of your written text.
• Refine The Content Tone
The writing style and tone of the content matter a lot. Writers who use simple and easy-to-understand tones often succeed in getting the appreciation of the readers. Beginners often face problems while keeping their article's tone engaging and appealing. For example, using a harsh tone in your content may annoy your readers. In case you are also facing the same issue, the article rewrite can rescue you. The tool refines the content tone and makes it readable for the readers. The content generated with the advanced paraphrasing tool will be flawless and have an engaging tone that leads people to read the content until the last word.
• Remove Plagiarism
Many of you might already know the unpleasant consequences of submitting plagiarized content. Plagiarism is an illegal and unethical activity that can lead you to face unbearable punishments like expulsion from college, losing a job, or destruction of your reputation. Therefore, it becomes unavoidable for writers to make sure their content is free of plagiarism. The use of an online plagiarism checker helps you detect any minor or major instance of duplication in a written text instantly. If you find any plagiarized text in your content and don't have time to rewrite it from scratch, simply paste it on the article rewriter tool. The utility will rephrase the plagiarized text and give you fresh and duplication-free text in a few seconds. Examine the genuineness of rephrased text by running a plagiarism check test using an advanced duplication finder.
Final Words
Rewriting articles helps you save time and provides you with an opportunity to improve the article's quality. The information stated in this blog would have helped you learn the benefits of rewriting articles. Also, you would have to find out the pros of taking the assistance of an advanced article rewriter to speed up the content creation process and enhance the quality of text efficiently. We hope that after reading this blog post, you will easily rewrite the content and uplift its quality without taking anyone's assistance.