How to Check Duplicate Content: Reliable Alternatives to Turnitin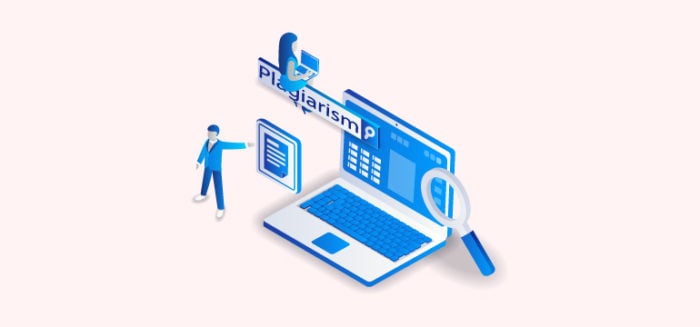 Views: 1258
Reading Time: 15 Min To Read
Uploaded On: October 11, 2022
The main problem faced by students while writing academic submissions is plagiarism. Students must ensure that the duplication in their content is well under the permitted limit. Otherwise, they may end up facing severe consequences such as a deduction in grade points and rejection of the submission.
Students often think that the most effective solution to check plagiarism in their content is Turnitin, which has been used for this purpose for a while. It is not affordable for everyone, there are multiple other cost-effective plagiarism-checking solutions as well.
We will discuss these efficient and cost-effective alternatives to Turnitin in detail to help students become aware of the necessary tools to check plagiarism in their academic submissions. Further details are given below:

What is Plagiarism?
Before we move on to discuss reliable Turnitin alternatives to check plagiarism, it is essential to define what is plagiarism, the act of plagiarism, its common types, and its consequences for students briefly.
So the term plagiarism refers to the act of stealing someone's writing and showing it as yours.
Simply put, having similar content to an already published or submitted source falls into the act of plagiarism. First you have to know the common types of plagiarism and how to avoid them.
There Are Two Main Types of Plagiarism
Accidental plagiarism: Accidental plagiarism is the inclusion of duplicate content in the writing that occurs when a student confuses the views of two separate authors, fails to cite the source, or rewrites the information from another source unintentionally.
Intentional plagiarism: Intentional plagiarism, on the other hand, is the situation when a person claims to be the author of particular writing despite knowing that it was written by someone else.
Consequences of Plagiarism
Plagiarism (If discovered), whether accidental or intentional, can lead to negative consequences for students.
A few consequences of plagiarism are written below to help you understand why checking plagiarism before submission is necessary.
-The act of plagiarism is considered against ethics and academic integrity.
-Students may face expulsion or suspension in return.
-Students with serious plagiarism allegations end up getting barred from taking admission to any educational institute.
-Grade penalties are also an option for supervisors administering the academic submission process.
-Students may also face class failure because of plagiarism.
How to Check Duplicate Content
The best way to identify copied content in your write-up is to scan it using an AI-based plagiarism checker.
There are a few effective and reliable Turnitin alternative that can help you scan your content for plagiarism. You simply need to upload a text file on these tools or copy and paste the content, and then press the check button. You will get the report regarding uniqueness of content included in your academic write-up. Once you get the report, you can paraphrase the content or cite the source to avoid the allegation of plagiarism.
In case, a particular section of your writing looks highly suspicious, you can copy and paste it directly on Google. If you find a result that looks quite similar to your writing, then that part of your content has duplication and needs to be paraphrased or removed altogether from the write-up. It's your choice to add a paraphrased version of that section to your submission or remove it and add a totally new piece of content in its place.
Here are some guidelines to help you avoid duplication in your content and keep it plagiarism-free.
-Make use of ideas from others as preferences.
-If you want to add someone's content, better paraphrase it.
-Try to cite the source while adding content from other sources.
-Rework the numbers as well before adding the information to your writing.
Reliable Alternatives to Turnitin
While many academic institutions around the world use Turnitin to figure out plagiarism and similarity index in academic submissions to available sources and to set new standards in academic integrity, there are a few alternatives to this tool as well. Students and teachers can make use of these duplication checkers to get reliable plagiarism check reports cost-effectively. We will discuss 5 reliable alternatives in this section, so ensure you read the details about all the tools we have included in our list of efficient Turnitin alternatives. Scroll down to know more.
PlagiarismDetector.net
You may see numerous plagiarism-checking tools claiming to be alternatives to Turnitin, but there are very few of them that can stand true to their claims, PlagiarismDetector.net is one of them. You can check plagiarism in non-English content as well with the help of this tool. This tool is made to support a wide variety of users, including students, professionals, and litigation experts. It analyzes the given content by considering lexical frequencies, word choice, and matching phrases. Hence, it is very much capable of spotting patch plagiarism in the content as well.
This plagiarism checker delivers quick results and accurate reports to ensure duplication-free content. Its subscription plans are budget-friendly as well. By using this tool, students can check the content of up to 25,000 words for plagiarism in one go. It offers multiple user seats if you opt for institute or enterprise plans, making it a suitable choice for students and professionals. It also provides customized plans for users, which makes it even easier for them to choose a subscription plan according to their requirements and make their content plagiarism-free.
You can also make your content unique in a single click by using AI-Based Paraphrasing tool.
SmallSEOTools
SmallSEOTools is a famous website that gained the attention of people because of its efficient plagiarism checker. We have placed it on the list of alternatives to Turnitin because of various reasons. Its convenient interface, support for multiple document formats, and extensive library of billions of text sources make it a strong contender.
The options of percentage gauges, highlighted and list-based view, ability to check sources and plagiarism report download make it a perfect tool to check plagiarism. It is available for students, enterprises, and institutions with multiple pricing packages. If you sign up for the pro version of this tool, you can check up to 30,000 words in one go. Students can also use it to check plagiarism in write-ups of up to 1000 words. You can also import documents to check plagiarism from cloud storage platforms such as Google Drive and Dropbox. It is also capable of checking plagiarism in non-English content.
DupliChecker
DupliChecker is another website that offers numerous tools for students and professionals. Its plagiarism checker has also earned a spot in our list of top alternatives to Turnitin. Users can also use it for free, but the word count limit is up to 1000. This AI-based tool has access to an extensive library that allows it to identify even the slightest duplications in the content. Moreover, this tool ensures the privacy and security of content uploaded on it to check for plagiarism.
It is a web-based tool, which means users can access it using any device and quickly check content for plagiarism. It also supports multiple document formats, so you don't have to worry about format conversion before uploading the content to this tool. It shows results in percentages which are easier to understand. Students can easily find out if duplication in their submission is well under limits or not. If you subscribe to the premium package of this tool, you can check up to 25,000 words in one go for plagiarism. Multiple pricing packages are available to fit the needs of various users.
PlagiarismChecker.co
Plagiarismchecker.co is another helpful website that offers a reliable plagiarism checker to help students and other users check a wide variety of content for plagiarism. It has been used by more than 500,000 users worldwide, which speaks a lot about its efficiency. This tool can scan billions of web pages in a matter of seconds. This tool allows you to exclude various sources and compare files while checking for plagiarism. You can also get PDF reports to prove the uniqueness of your submissions. Its deep search plagiarism checking methodology makes it one of the most reliable plagiarism checkers.
This tool offers a document view and highlights duplicate content in Red and unique content in green color for the ease of users. It also shows the uniqueness and plagiarism in content with the help of percentage gauges. While it allows free users to check a write-up of 800 words at max in one go, its pricing plans are also affordable. It allows users with basic, business, enterprise, corporate, and exclusive plans to easily check plagiarism in the content of up to 1000, 1500, 2000, 10000, and 30000 words in one go. Moreover, it is available in multiple languages to help users worldwide.
RewriteGuru
As the name suggests, RewriteGuru started its journey as a platform that provided an efficient tool to help users paraphrase already used content and make it look unique with the help of AI technology. Soon it launched a plagiarism checker as a supporting tool. This tool has also made its name because of the effective use of AI to check the given content against billions of sources and figure out the slightest duplication in it. This tool scans billions of web pages in quick time to deliver precise results regarding the existence of plagiarism in the content. The plagiarism checker by RewriteGuru has multiple features and functionalities to help you spot plagiarism in content and remove it from content.
It highlights plagiarized content and helps users remove it with the help of the rewriter tool. You can also download plagiarism reports using this tool to keep the proof. The subscription plans offered by this tool are also budget-friendly. Users can choose any of the basic or pro plans for the month, quarter, or year as per their requirements. Moreover, they can easily check plagiarism in non-English content with the help of this tool. It also helps users remove grammar mistakes from the content. Hence, it is a one-stop solution for students who want to eradicate duplication and grammar mistakes from the content before submitting their academic assignments.
End Note!
Plagiarism in academic submissions is non-acceptable. It can lead to a number of adverse consequences for students. Hence, students must make sure that their submissions are free of plagiarism. Using Turnitin for this purpose can be costly; some efficient alternatives to this plagiarism-checking tool can help you find plagiarism in your content and get rid of it easily. We have put together useful detail about these tools above to help students make wise choices. Hopefully, students will consider these options and choose one of these tools to check for plagiarism in their academic submissions before handing them over to the supervisor. We wish students luck with the process of writing and submitting their academic assignments.